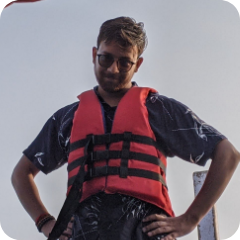 Aayush Goyal, 26
hi, hello, ciao, hola, bonjour , হ্যালো, வணக்கம், ಹಲೋ, హలో, ਸਤ ਸ੍ਰੀ ਅਕਾਲ, 你好, こんにちは

I am Aayush Goyal. I am from the Pink City (Jaipur, Rajasthan, India; in case you are wondering).

Currently I live in Namma Bengaluru.
My favourite quote which I modified a bit
"So much to do, so less time!"
💡 About Me
⏱ I previously worked in Wipro Technologies on Angular, Java, and Salesforce.
🎓 I graduated from NIT Srinagar, with B.Tech in ECE.

😄 I am currently working as Director of Operations @ 50Fin and I am also the founder and CEO of deriva. A FinTech start-up trying to change finance is thought of.
👋🏼 Please consider checking out our website and if you are interested to work with us, please see open positions @ deriva - careers.
💰 We are also looking for raising funds and if you want to be an early-stage investor, please connect with me on LinkedIn.
🚀 Our first product tallileo is one app you need for all personal finance needs. Visit the website to know more.

👨🏻‍💻 I am also a full-stack developer primarily working in the Android/Flutter and Web (React/Next.js) space.
🎨 I am also a professional UI/UX designer.
📊 Apart from this, the business world entices me. I love the field so much that everything involved from fundraising to IPOs, product-market fit to marketing, I want to learn and grow in each one of them.
🧲 Interests
📚 When not working or coding, you can see me reading a novel or something on internet. I discovered a liking for reading back in 2016, and since then have completed 85+ novels with 20 of them by Agatha Christie. Some of my favorites include (not in any specific order):
1. The Kite Runner by Khalid Hosseini
2. And Then There Were None by Agatha Christie
3. To Kill A Mockingbird by Harper Lee
4. A Shot At History: My Obsessive Journey to Olympic Gold by Abhinav Bindra
5. Five Little Pigs by Agatha Christie
6, The Shiva Trilogy by Amish Tripathi
7. Master of the Game by Sidney Sheldon
8. The Diary of a Young Girl by Anne Frank
9. The Hobbit by J.R.R. Tolkien
10. Animal Farm and 1984 by George Orwell
11. The White Tiger by Arvind Adiga

🏸🎾🏓👟🎱 I also try to keep my body in shape and working out is a part of my daily routine. I go to badminton academy daily to work on my badminton skills and planning to participate in an amateur championship sometime next year. You might also find me fighting for my team when I am playing a team sport or fighting for myself when I am playing an individual sport.

Other than these I listen heavily to 🎶 music. Spotify has to be in my top 5 apps. I also like to ✈️ travel a lot. Though I haven't traveled a chunk of my own country but I have grand plans to see around the world. By the way, my favorite city is Paris, and my favorite country is Switzerland (not that anyone cares). And what comes by default when you are heavy on travel? Yeah, you guessed it right. Once a foodie, always a 🌮 foodie.

✍🏼 I also write about stuff which you can read on Why So Serious?
💼 Hire Me
You can mail me @ aayushgoyal.mps@gmail.com to reach out for Freelancing based requests.

You can also connect and DM on different social media if you want to:
✅ learn more about deriva and its products.
✅ have a friendly tennis/badminton/TT match.
✅ become a mentor or an early-stage investor in deriva.
✅ connect and are a passionate entrepreneur, start-up enthusiast, or someone with a DIY kick in you.
✅ share knowledge, I am knowledge-hungry.
🚨 Disclaimer
Views expressed are my own and do not reflect those of deriva Technologies Private Limited or Fifty Fintech Private Limited, its management, employees, customers, or any other affiliated party.
Nor these views reflect those of any of the entities I am connected with in any form.